Webteam
An historic event in our Circuit on Sunday as the new Dunwell Ghanaian Methodist Church was brought to birth in the presence of many honoured guests and a congregation which overspilled the 200 seats.
As we processed in behind a robed choir singing "The Church's One Foundation" I heard someone comment "It's very formal!" I think they must have revised their view ten minutes later as a time of prayer and praise broke out into singing, dancing and drumming. And this blend of the formal and reverential with the spontaneous and ecstatic continued seamlessly through the three hour service, which was followed by the usual generous hospitality with food and drink.
One thing I'd never seen before was the offering "competition". People shimmied up to give their offering in a basket that matched the day of their birth. At the close of the service we discovered which day had "won". Fitting that Friday should have emerged victorious since in the nursery rhyme, Friday's child is "loving and giving"!
Looking forward to everything this new church might bring to the Circuit and District — and to what we might bring to them.
Read all about it here:
https://www.methodist.org.uk/about-us/news/the-methodist-blog/dunwell-ghanaian-methodist-church-telford/
You may also be interested in
Calendar
News stories
Fundraising for Ghanaian Village
Webteam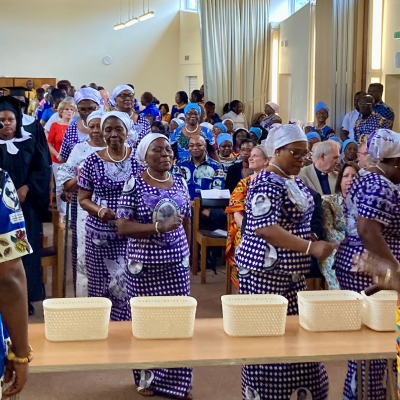 Dunwell Ghanaian Methodist Church
Webteam
A Statement on Ukraine
Webteam
Faith Space new times
Webteam
Publications

Plan Mar - May 22 v2
PDF file

Christmas Service Telford
PDF file

Model Church Safeguarding Policy
Word file

Circuit Safeguarding Policy
Word file